With mere weeks left in 2017, information technology professionals across virtually all sectors are looking to the year ahead. The market for enterprise IT products is expected to expand to $3.5 trillion in 2018, constituting year-over-year growth of more than 1 percent, according to research from Gartner. What innovations will the businesses driving this development embrace over the next year? Here are some of the essential enterprise IT predictions for 2018:
Blockchain takes hold
In recent years, forward thinkers in the financial industry have championed blockchain, an online accounting methodology centering on communal ledgers with automated transaction tracing capabilities. The idea grew out of the cryptocurrency space, where purveyors of bitcoin and other publicly controlled digital tender needed an effective strategy for preventing fraud.
This past year, business leaders in key sectors deployed blockchain or began seriously strategizing future adoption, according to Deloitte. Between November and December 2016, analysts for the professional services firm spoke with more than 300 business leaders at U.S. enterprises earning $500 million or more in yearly revenue, and asked these professionals to characterize internal efforts surrounding blockchain. One quarter said their respective companies planned to adopt the methodology over the next 12 months, pledging investments of $5 million or more. Why did these businesses embrace a technology that some claim is still in its experimental stages? Approximately 55 percent of the executives that took part in the Deloitte survey said they would lose a competitive advantage if they failed to embrace blockchain. And, more than 40 percent cited the innovation as disruptive to their respective industries, which included consumer goods production and manufacturing, finance, life science and health care and technology in media.
Numerous other organizations are expected to follow in the footsteps of these early adopters in 2018, global business strategist Bernard Marr explained in an article for Forbes. Marr said enterprises across sectors would turn to the technology over the next 12 months. From law firms looking to track property deeds to manufacturers hoping to achieve more visibility into their supply chains, distributed ledgers have the potential to streamline backend, verification-based processes at businesses of all kinds. Of course, the financial space stands to gain the most out of the technology, which analysts at the International Data Corporation believe will buttress an estimated 20 percent of all global trade finance operations by 2020.
In the end, this momentum is likely to push blockchain into the mainstream. After all, the market for software and services centered on the once niche fixture is currently expanding at a compound annual growth rate of more than 48 percent, according to Research and Markets. By 2023, enterprise blockchain spending is expected to surpass the $6 billion mark. In short, 2018 looks to be the beginning of the long-awaited blockchain revolution.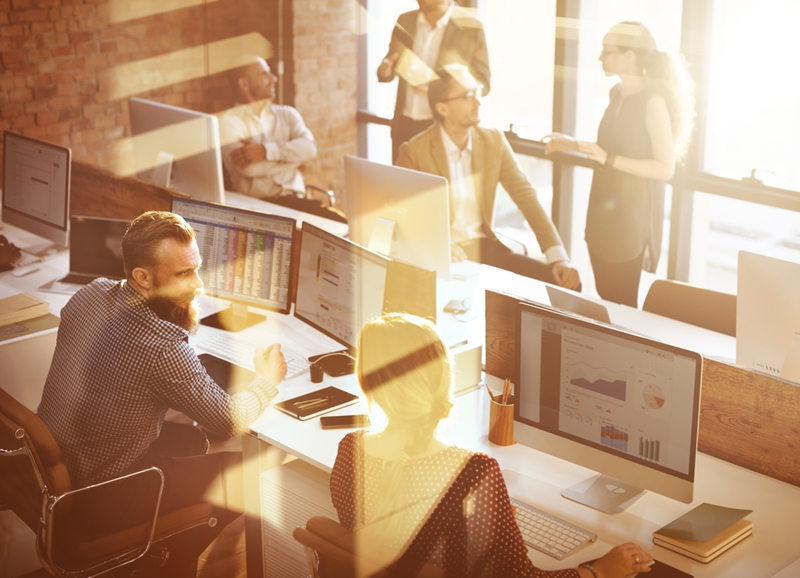 IoT moves forward
Enterprise internet of things technology gained more steam in 2017, as firms everywhere outfitted employees with the latest mobile devices. Roughly 3.1 billion connected workplace tools are likely to have gained service by the end of December, with global IT teams spending nearly $1 trillion on smartphones, smartwatches and the myriad other web-enabled items that constitute the IoT, according to Gartner. This momentum is expected to continue into 2018. An estimated 4.1 billion new enterprise IoT devices will connect to networks over this span – the result of more than $1.1 trillion in endpoint spending. However, a number of novel implementation undercurrents may arise, the International Data Group reported.
For instance, organizations in the health care and retail industries are expected to unlock the full potential of the technology over the next year. Sellers are poised to introduce connected sensors into the supply chain, adding further visibility to their backend workflows and bolstering efficiency and productivity. Clinics, health systems and hospitals, on the other hand, are likely to deploy patient wearables in larger numbers to address ever-growing customer pools filled with individuals who need help managing chronic conditions.
In addition to these more positive developments, many predict IoT developers and adopters will have to address one less-than-positive trend in 2018: the intensification of connected device attacks. As the IoT has matured, so have the techniques used by hackers to corrupt it. Over the course of late 2016 and 2017, data security specialists became acquainted with malware strain Mirai, a piece of insidious software that takes over hundreds or thousands IoT devices via network connections and uses their combined signals to overwhelm and shutdown websites and entire portions of the internet, Wired reported. This modern botnet begetter is just one example of the many IoT-centered attack vectors materializing within the dark cavities of the web. Internal and external data security personnel will have to work this forthcoming year to address threats like Mirai to facilitate further adoption and ensure the commercial viability of IoT technology.
The cloud expands
Cloud computing is fast becoming industry standard across all sectors. In 2017, an estimated 95 percent of businesses entered the fiscal year with cloud deployments in place, according to research from RightScale. This industry-agnostic acceptance of the cloud is certainly not expected to abate over the next 12 months. However, the cloud landscape will shift some during 2018, as new market forces take hold and novel technology crystallizes.
Public cloud usage will likely expand over the course of the year, according to the analysts at Forrester Research. Businesses have found great success with these service offerings in recent years, leveraging public clouds – sometimes termed "megaclouds" – to integrate advanced enterprise intelligence software into their processes or leverage machine learning to streamline once arduous data analysis tasks. These endless storage spaces have opened up myriad new technological opportunities for all companies, which is why experts at Forrester believe they will net more than $178 billion in revenue in 2018, according to Forbes contributor Louis Columbus. This rush to take advantage of public cloud technology is expected to transform the niche market for cloud management software. Vendors could affix hefty price tags to these programs in the early days of cloud adoption. Now, however, many are giving them away or chopping them into modules and selling them at low prices.
While these intricate movements play out, the general cloud computing landscape will largely remain unchanged in 2018, with some smaller developments. Amazon Web Services and Microsoft will expand to consume roughly 76 percent of the cloud market share, with the former holding on to its top position via a significant margin. That said, Microsoft, which was able to gain ground on AWS in 2017, will continue to move forward with newer products like Azure Stack. Additionally, the Redwood, Washington-based company is expected to gain a leg up on its competitors in the container orchestration race via its Kubernetes-centered Azure offerings. Microsoft rolled out the container product in February 2017 and has opened itself up to the many developers using the well-known platform, IDG reported.
With these exciting developments in play, internal IT teams should work with applicable colleagues in other departments and executive stakeholders to design implementation plans centered on the innovations above for 2018. These technologies are likely to form the backbone of future business operations and therefore deserve attention. However, for organizations with more traditional backend systems in place, IT modernization might be necessary before more cutting-edge improvements can take place.
The Inventu Corporation is here to help. Our cutting-edge Flynet Viewer makes screen integration and modernization easy, meeting employer and staff expectations in a way that feels both familiar and simple. Connect with us today to learn more about the Inventu Flynet Viewer and the other solutions in our product portfolio.