Flynet Viewer gives MSD the competitive edge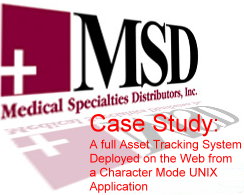 In May 2004, Medical Specialties Distributors Inc., set out in search of an application that could take their existing equipment management program, known as MULTI Track, and make it available to their customers via the web. The system is used by MSD customers to track their owned and rental medical equipment but the interface can be occasionally difficult to use and unintuitive. They felt that an enhanced user interface would not only improve the service for existing customers but that they would gain a competitive advantage by providing real-time intelligence to customers from anywhere in the world.
MSD had put many years of programming into MULTI Track so they needed a solution, which would utilise the existing application logic but present a new interface to the user with robust options. For example, presenting drop down lists of information so that operators do not need to recall items and summarising information from different reports on a single web page. MSD initially offered secure access via CITRIX to a terminal emulator called NetTerm, which allowed secure access via the web to Multi Track. However, the interface was still a typical "green screen", which some customers found cumbersome and lacking today's web based application look and feel.
"MSD examined a broad spectrum of suppliers and short-listed three; WRQ, Ericom and Inventu (a Flynet Viewer reseller)," commented Matt Francis, Senior Systems Administrator, MSD. Each supplier was asked to develop a proof of concept solution. "After looking at all aspects of each supplier we decided to go with Inventu due to our high confidence in Inventu's Development Team and the Screen Connector software."
Now, after two years in production with the ASP.NET Extranet, MSD is undertaking a migration of the backend from UNIX to native .NET and SQLServer. Because the existing ASP.NET application was implemented using the Flynet Flex architecture, the existing user interface will be unchanged both during and after the conversion. By replacing or modifying select methods that are at the system integration level, the developers working on the project are replacing screen read/write calls with SQLServer calls. Business rules are implemented to mirror those running in the UNIX host, either in the integration layer in c# or, whenever appropriate, inside a SQLServer stored procedure.
Peter Elias, Director of Equipment Management Services, commented, "Our customers have responded very positively to the new application which has fulfilled our expectations and makes us stand out from the crowd. I'm very happy we chose Inventu because Inventu gave us the extra attention and support we all strive to get from a software company and consulting firm."
To find out more visit www.inventu.com or www.msdonline.com.